I have been looking forward to this Sunday for a couple of weeks now. It had been planned to pick Alan up 7 am Sunday morning and have a shortish trip into Northamptonshire - That was the plan.All was well at 7 am, at 7.05 am was when things started to go wrong. Leaving Alans house I headed towards the M6 to pick up the A14, as my Sat Nav suggested (it said we were 43 miles away from intended venue), but Alan in his wisdom, said that the way he had planned the trip ,we would be better off going along the A47 - fair enough I thought Al's an intelligent guy and has obviously done his homework, he is bound to know more than the 'world wide sattelite tracking navigation systems' (not sure how many billions have gone into developing the sat nav system) but I was sticking with Al. A trip around Hinkley and into Leicester was when problems set in. The A47 suddenly changed to the A46, and signs for Peterborough became none exsistent (not sure why we were following signs for Peterborough) I put the sat nav back on and it wanted us to go towards the motorway and back towards Hinkley (the sat nav says we were 44 miles away now) but no I still had my trust in Alan So we persevered for a bit taking in the marvelous sights of Leicester City Centre. In the end we succumbed and put the Sat nav back on. It sent us back to where we had come from,we joined the motorway and we were still 42 miles away. Along the A14 Alan kept pipe-ing on about the A43 and as I had lost a little bit of confidence in his directions, I said we will stick with the sat nav, it may know a short cut or something. It wasnt long before we pulled off the A14 and Jo (thats the name of my sat Nav - because it keeps nagging - hope Jo dont read this lol)said that we had arrived at our destination - It didnt look very birdy to me, the centre of Finedon, a nice place but not many birds. Alan obviously realising that I had put the wrong name in, said it was Fineshade we were going to not Finedon and he assumed that I was pronouncing Fineshade wrong-- No I wasnt. Luckily we were not far from the A43. Things started to get good
A few miles along the A43 we saw a red Kite - then another and another. We parked at Wakerly wood in the hope of our target bird, the Crossbill, no joy im afraid but it was a great stroll through the wood with quite a few tits, including coal tit which Alan pointed out there song, and I was hearing it all over the place.We went accross the road into fineshade and after a visit to the visitor centre we started on a trail, with Alan leading, it wasnt long before we were lost and on the outside of the wood, and that was where I managed to get this picture of a red Kite not brilliant but im glad i got it
it wasnt long before a buzzard came along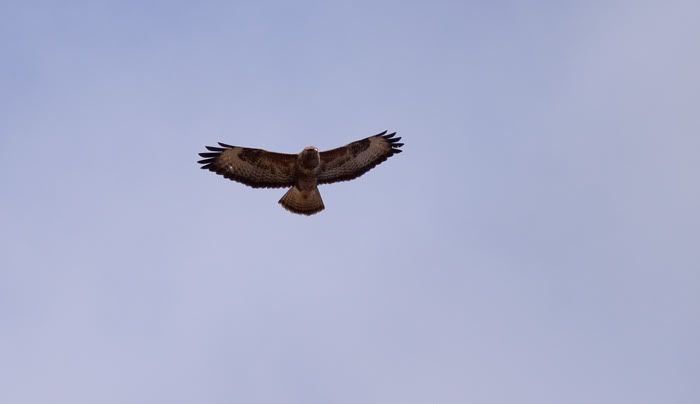 I turned round and sitting on some wires was a kestrel
turning back the kite and the buzzard were riding the same thermal
this was brilliant I was like a kid a christmas. Red Kites and buzzards were every where we saw 3 kites up at once and we also saw 3 buzzards up. Alan pointed out how to recognise at a distance, which made the skies even more interesting. I think we must of saw over 12 red kites over various venues in the county.
We then moved on to Blatherwyck lake in the hope of a Manderin but we had no joy but seen a lot of waterbirds. Next stop was auldwinkle (titmarsh) it was a flying visit a such as we wanted to get to some dissused airfield to spot a short eared owl - Alan had read about it on some roving doctors blogspot (wonder who that can be). we got to the airfield and I saw my first yellow hammers - what a great start. I was trying to picture where Kev in one of his posts had seen this owl but suddenly it appeard (absolute rubish photo but the best I could get)
it went over the back and sent up a flock of golden plovers. We stopped there for about an hour before it got to dark.
All in all a fantastic day and lots of ticks for me - we saw over 50 species on the day. the time just flew by. Alan went home with instructions to plan our next trip next month - I cant wait. Im off to Breydon water next week with Nuneaton Bird club - another trip to look forward to. Im hoping to pop in at Brandon soon to as there seems to be quite a bit going on there