This morning I thought I would venture to another part of Nuneaton, some woods at the top of Anchor Hill but I was drawn back to Seeswood Pool with the hope to watch the Terns again. It was poor light with occasional spots of rain.I saw a greenfinch which I watched for about 5 minutes flitting about cannot believe that I am getting excited over a green finch. I saw a magpie over the other side of the field so I put my camera onto a high speed to try and cut out the blur but it is so difficult to focus with the converter on my lens, so unfortunately my images are still blurred (frantically saving now to get a new lens)
I saw a couple of reed buntings in a bush so creeping up I was amazed that I did not spook them.I sat about 10 feet away from them. I must of sat there for over 20 minutes trying to get a good shot, but struggled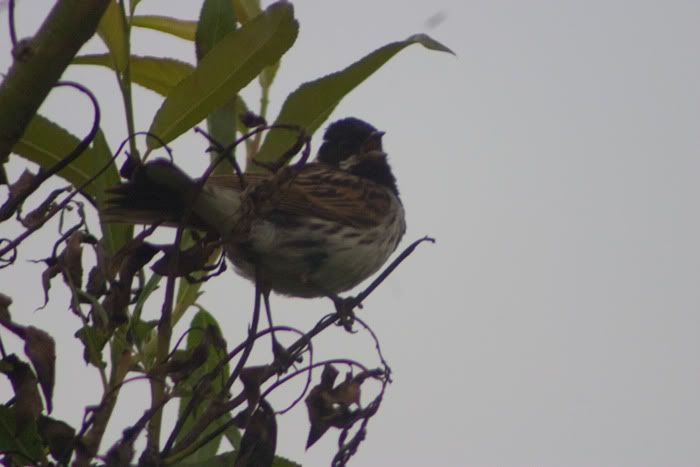 The cock Reed Bunting he wasnt singing just tweeting


The female Reed Bunting along with a mouthfull of grubs
It started to rain so I headed for the cover of some nearby trees. I was scouring the lake but there was no Terns. I did see some Tufted Duck and Mallard. The weather broke and I walked to the back of the lake, where I sat and watched a goldfinch feeding. I thought I would head back as the weather looked as if it was going to start to rain again.
The first list of birds I have seen in the last 2 weeks
Tufted Duck

Reed Bunting

Reed warbler

Wren

Mallard

Magpie

Common Tern

Goldfinch

Greenfinch

Grey Wagtail
These birds have given me so much pleasure over the last few weeks and I cant wait to get down there again. I was reading somewhere that a total of 128 bird species have been spotted down at the pool so I have a long way to go yet.
If you would like to comment on any of the entries please do so and please click the ' follow blog ' button at the bottom of the page. I am not sure what this does apart from show me that someone is interested lol. There is a way that when I put a new entry it is sent to you by email but I cant figure out how this works so if anyone can suss it please put instructions in the comment box
Thanks for reading